VINTAGE 70's & 80's DRESSES
CUTE 1970'S SUNDRESS
Adorable seventies dress!
Fabulous pattern of ivory, black, red and green.
Feels like a polyester blend. Lots of stretch to fabric.
Fitted bodice with button straps.
Comes with matching sash that can be used as a belt or head scarf.
Center back metal zipper closure. No Label.
Note - A couple tiny snags in fabric.
CONDITION: Very Good
SIZE: Bust - 35"-36" Waist - 29" Hips - open
Length - approx 55" from top of shoulder strap to bottom hem
PRICE: $60
more photos/order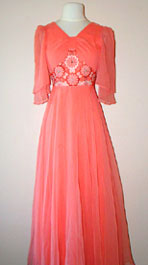 PEACHY/PINK 1970'S DRESS
Gorgeous floaty peachy/pink colored gown.
A layer of chiffon over polyester and lining.
Double layered sheer chiffon sleeves.
Gathered bow design at bust.
Fabulous flower & rhinestone pattern at waist.
Center back metal zipper closure. No Label.
Note - Small mark on one sleeve.
CONDITION: Very Good
SIZE: Bust - 31" Waist - 24" Hips - 34"
Length - approx 55"
PRICE: $60
more photos/order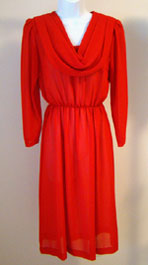 RED 1980'S SECRETARY DRESS
Red hot sexy secretary dress!
Sheer red & flowy polyester crepe.
Draping at front neckline.
Long sleeves and elastic waist.
Unlined.
Label - "David Snider"

CONDITION: Excellent
SIZE: Bust - 30-34" Waist - 20-29" Hips - open
Length - approx 42" Sleeves - 21"
PRICE: $40
SOLD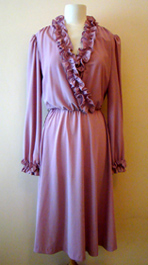 LILAC 1970'S DRESS
Elegant for day or night! Late 70's/early 80's.
Beautiful lilac color.
Long flowing sleeves with wrap style bodice.
Ruffled neckline and cuffs.
Elastic waist allows dress to fit various sizes.
Tiny shoulder pads.
Label - "Lady Carol of New York"
CONDITION: Excellent
SIZE: Bust - 40"-46" Waist - 30"-34" Hips - up to 48"
Length - 46" Sleeves - approx 25.5"
PRICE: $40
SOLD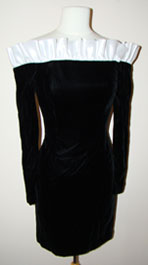 BLACK 1980'S DRESS WITH RUFFLES
Drop dead gorgeous 80's dress.
Made from black velvet.
Classic eighties off the shoulder style with a row of white ruffles.
Boning in the bodice for a nice shape.
Long sleeves. Center back zipper closure.
Label - "En Francais"

CONDITION: Excellent
SIZE: Bust - 35" Waist - 28" Hips - 36"
Length from top of ruffles to bottom hem - 33"
PRICE: $70
more photos/order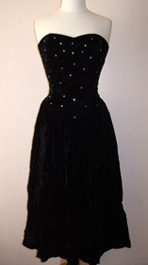 BLACK RHINESTONE 1980'S DRESS
Beautiful 80's gown.
Made from black velvet, with elastic sewn in the back for a nice stretch.
The front bodice is decorated with rhinestones.
Boning in the bust for a nice shape.
Label - "Katie"
Note - Dress is marked size 12 but please see measurements below.

CONDITION: Excellent
SIZE: Bust - 36" Waist - 26-28" Hips - open
Length - 42"
PRICE: $60
SOLD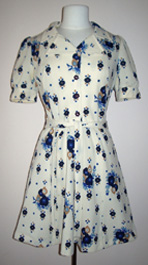 1970'S DRESS WITH BLUE FLOWERS
The most adorable 70's mini dress.
Polyester fabric in a cream color with a blue flower design.
Cute flower shaped faux buttons down the front of bodice.
Puff sleeves.
Attached self fabric sash can be tied in front or back.
No Label.

CONDITION: Excellent
SIZE: Bust - 36" Waist - 29" Hips - open
Length - 35.5"
PRICE: $50
SOLD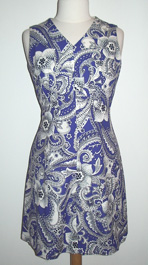 1970'S MINI DRESS
Lovely early seventies sleeveless dress.
Purple, white & black floral/paisly print.
Feels like polyester.
V-neck, fully lined inside, with extra lining in the bust.
Zipper up the back.
No Label.

CONDITION:Excellent
SIZE: Bust - 40" Waist - 34" Hips - 42"
Length - 35"
PRICE: $40
SOLD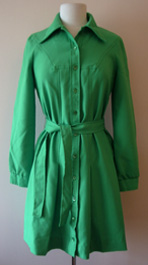 1970'S GREEN COAT DRESS
Stylish 70's spy girl look.
Jacket style dress is made from green polyester.
Center front matching buttons all the way down front of dress.
Long sleeves.
Belt can be tied to fit a variety of waist sizes.
Label - "Jonathan Logan"

CONDITION:Excellent
SIZE: Bust - 36.5" Waist - 34" (can fit smaller waist by tightening belt)
Hips - 39" Length - 35.5" Sleeves - 23"
PRICE: $45
SOLD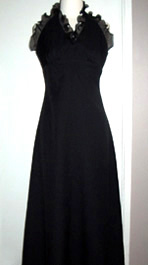 1970'S BLACK EVENING GOWN
Elegant full length evening gown.
Black polyester fabric.
Halter neck with ruffles around bust and neck.
Zipper up the back.
No Label.



CONDITION: Excellent
SIZE: Bust - 34" Waist - 28 " Hips - 37"
Length - approx 56" from top of neck to bottom hem
PRICE: $60
SOLD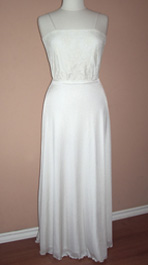 1970's WHITE GOWN
Beautiful late seventies white/cream colored full length gown.
Spaghetti straps.
Flowery lace overlay on bodice of dress.
Short zipper up the back, as well as hook and eye closures.
No Label.



CONDITION: Excellent
SIZE: Bust - 32-34" Waist - 24-25" Hips - open
Length - 58" including straps
PRICE: $50
more photos/order